Architectural Drawings By Josiah Conder, Important Cultural Property (Katsura Library)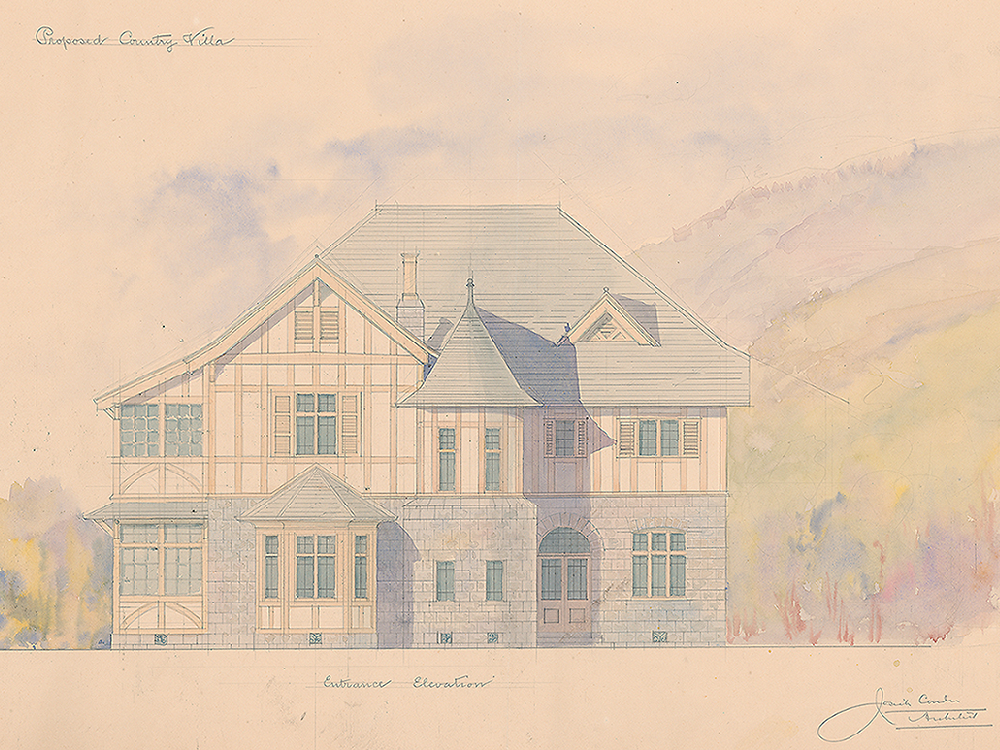 In 1877, a young British architect Josiah Conder (1852-1920) came to Japan as a foreign specialist invited by the government. He taught at Kobudaigakko (Imperial College of Engineering; currently Department of Architecture, Graduate School of Engineering, the University of Tokyo) and was engaged in many national architecture projects such as Rokumeikan and Ueno Museum.
In 1888, he started an architectural design office of his own and showed his talent in designing residences for upper class families. Examples of his masterpieces include Iwasaki Residence in Kayamachi and Mitsui Villa in Tsunamachi.
In addition to installing the Western architectural style, Conder also adopted the Saracenic style with characteristics between the Japanese style and the European style, and try to blend the Japanese and the Western styles in harmony. He did so to seek for an architectural style that is fit for the Japanese landscape, history and culture.
In the background of his architectural intention lies his proactive attitude in learning Japanese culture. While working as an architect, he familialized himself with Japanese traditional culture such as painting, dancing, kabuki, flower arrangement, gardening and fashion, and pursued his research in these fields. He even studied Japanese painting under Kawanabe Kyosai, famous Japanese painter, obtained the name "Kyoei" and published a book entitled Paintings and studies by Kawanabé Kyōsai. His works were of the highest quality among the Japanese studies by Western researchers at the time and exerted a great influence on Japanese studies in Europe.
Kyoto University holds many architectural drawings by Josiah Conder. They are finely detailed and beautifully colored and, with their historical and artistic value, were designated as important cultural properties in 2006.