1,067 items from Nakai Collection's Kinri-no-bu newly released
2020-02-21
1,067 items from Nakai Collection's Kinri-no-bu newly released
One thousand sixty-seven items from Nakai Collection's Kinri-no-bu have been newly digitized and released. As of February 21, 2020, Digital Archive provides 1,342,116 images of 15,448 titles.
▼Nakai Collection's Kinri-no-bu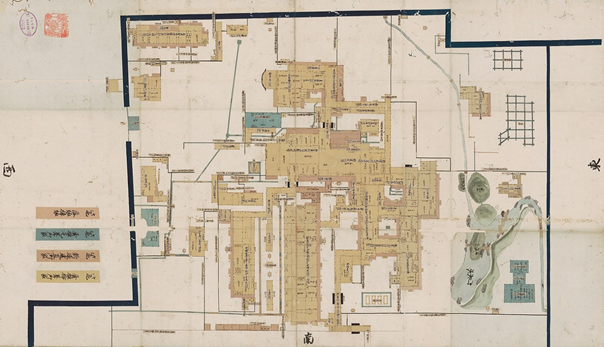 Kinri-no-bu (禁裏之部; Imperial Palace) of Nakai Collection is composed of 1,067 items, including architectural plans of each residence in Kyoto Imperial Palace such as Shishin-den (紫宸殿; Hall for State Ceremonies), Seiryo-den (清涼殿; Emperor's Habitual Residence) and Sento-gosho (仙洞御所; Sento Imperial Palace), drawings of each part of the buildings, ornament and other equipment, and registers of restoration. The variety of records in type and content tells us the essence of Japanese architectural technique that has been passed down in Kyoto Imperial Palace today.
Architectural plans include ground plans, cross-sectional views, elevation views and okoshi-ezu (起こし絵図). Okoshi-ezu has both functions of a building model and architectural plans and is suitable to visualize a small building with complicated components. Carpenters during the Edo period often used this method.
These materials were digitized and released in the digital archive under the Kyoto University President-Selected Project "Digitization and Internet-release of Treasure of Kyoto Kinri-no-bu, Nakai Collection held by the Main Library of Kyoto University". Large-sized illustrated plans were digitized by using a no-contact, ultra-high resolution scanner. The scanner ran over a plan along the frame set around it, producing strips of digital images, which were then merged into one entire image.