When reusing the image of Amabie...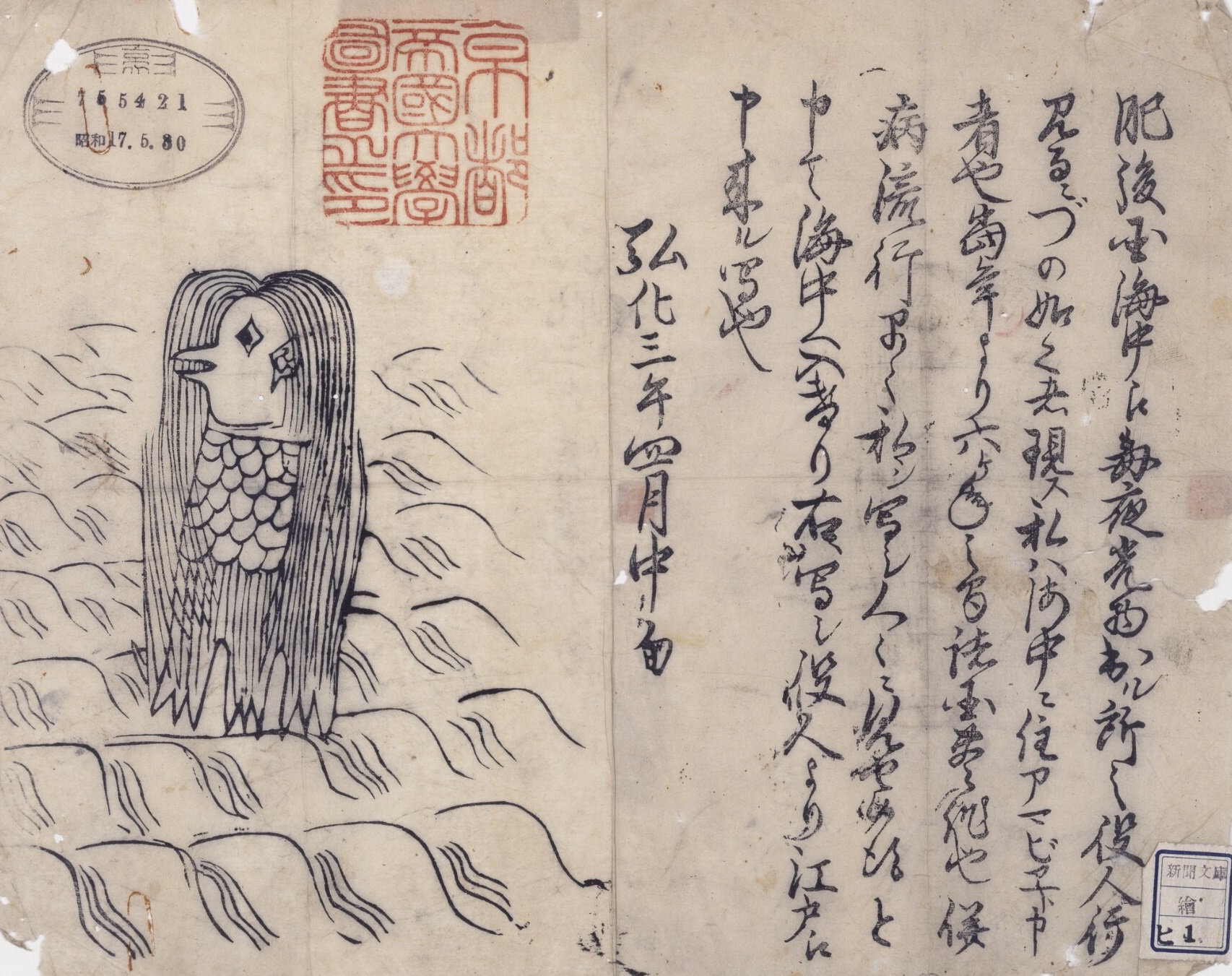 The image of Amabie is open access data that Kyoto University Library Network produced from the original rare material owned by the Main Library and has made OA in Kyoto University Rare Materials Digital Archive. Anybody can reuse the data without payment and approval provided they observe the conditions below.
 
Conditions of Reuse
Users must indicate that the Main Library, Kyoto University owns the original material of the image. Users must also provide a link to the image's original website, when using the image on another website.
Users must indicate if changes were made to the image.
(e.g.)
『肥後国海中の怪(アマビエの図)』(京都大学附属図書館所蔵)
Photograph courtesy of the Main Library, Kyoto University - Amabie
The above conditions don't apply to the use of the image for a personal and private purpose, EXCLUDING publishing, broadcasting, disseminating on the website or distributing commercially.
When attaching the library information to the resulting work itself is difficult (e.g. when it might mar the design of the work), the information can be indicated on its attachment (such as packaging materials) or a website that promotes the work.
(e.g.)
A badge with the Amabie image printed on it (library information to be indicated on packaging materials)
A video for broadcasting (library information to be indicated at the end of the video)
 
How to Download the Image
Access the following URL to display the image in your browser.
https://rmda.kulib.kyoto-u.ac.jp/iiif/RB00000122/RB00000122_00085_0.ptif/full/2000,/0/default.jpg
Right-click on the image and save it in your device.
 
Reference
The transcription of the image is available, when you click on "MORE INFORMATION" on the right side of the viewer (Universal Viewer).
(Transcription)
肥後国海中江毎夜光物出ル 所之役人行
見るニ づの如之者現ス 私ハ海中ニ住アマビヱト申
者也 當年より六ヶ年之間 諸国豊作也 併
病流行 早々私ヲ写シ人々ニ見セ候得と
申て海中へ入けり 右ハ写シ役人より江戸江
申来ル写也
弘化三年四月中旬
What's Open Access?
Open Access (OA), a term often used regarding the dissemination of academic information, means making academic information open to the public on the Internet so that anybody can use it without payment. It is expected that such OA academic information will be widely used as common property, thus promoting academic and creative activities.

Why should the source of data be indicated?
It is important to clarify the source of data, so that those who see the reused OA data will know what the original data is like. Therefore, we ask users to indicate the title and the holding library's name with the image they use.
Kyoto University has been promoting digitization of its rare materials and their dissemination, so that those who want to use the materials can use them freely, because we recognize the rare materials we hold as valuable common property. We sincerely ask for your kind understanding of and cooperation for the spirit of OA, so that everybody, whether those creating something new or those just seeing the resulting work, can feel good!
Contact
If you have more questions, please send them in writing via email or FAX.

Digitization Team, Library Planning Section, Library Planning Division, Main Library, Kyoto University
e-mail: gazo660[a]mail2.adm.kyoto-u.ac.jp (Please replace "[a]" with "@")
FAX: +81-75-753-2629